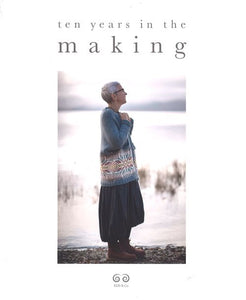 Ten Years in the Making
Kate Davies thoughtfully reflects on a decade in design in her anniversary collection of 18 beautiful patterns. Mixing 14 innovative, brand-new works like Sterntaucher and Fleckit with four classic re-releases (Owls, Paper Dolls, Carbeth and Carbeth Cardigans), all patterns are written in Kate's signature clear style across an inclusive size range.
There are 12 different pullovers and cardigans to choose from, including simple-to-knit styles such as the Evendoon pullover and cardigan alongside the enjoyable cable challenges posed by Wryit or Tree Tram Tro. Yet Kate's hallmark is perhaps her work with colour, and this collection abounds with bold designs of many hues, including yoke sweaters, a cosy hoody, mitts, cowl, hats and slippers, and the graphic Sterrie blanket with its simple, contemporary feel.
---
More from this collection