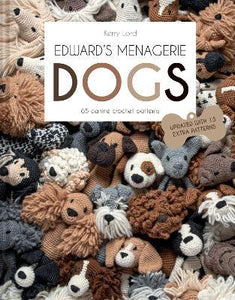 Edward's Menagerie: Dogs
Having shown us how to master monsters in Edward's Crochet Imaginarium and capture our friends and family in Edward's Crochet Doll Emporium, Kerry Lord is back with patterns for everyone's favourite pups.
Including patterns for 65 classic dog breeds, Kerry also shows you how to adapt the patterns so you can perfectly capture your own furry best friend in crochet form. With step-by-step instructions for all the basic crochet techniques needed, this book is perfect for all skill levels. Illustrated by irresistible lifestyle photography featuring the crochet dogs alongside their real-life muses, this book would make a pawsome gift for crafters and devoted dog-lovers alike.
The 65 classic dog breeds featured include: Afghan Hound, Bedlington Terrier, Cocker Spaniel, Husky, Basset Hound, German Shepherd, Scottie Dog, Weimaraner, Labrador, Poodle, Westie, Red Setter, Staffordshire Bull Terrier, Pug, Dachshund, Dalmatian, Collie, Springer Spaniel, Schnauzer, Chinese Crested, Old English Sheepdog, Shih Tzu, Boxer, Chihuahua, French Bulldog, Chow Chow, English Bull Terrier, English Bulldog, Puli, Whippet, Dogue de Bordeaux, Samoyed, Wolfhound, Pekingese, Border Terrier, Shar Pei, Lakeland Terrier, Corgi, American Water Spaniel, Mudi, Rottweiler, Beagle, Mastiff and Newfoundland and more!
---
More from this collection