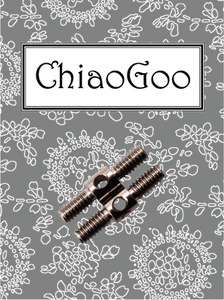 ChiaoGoo Cable Connectors
Chiaogoo Cable Connectors allow you to join multiple cables together to create a longer total cable length.
They are also super helpful to try on top-down garments mid project to check your fit. Simply replace one of your needle tips with a connector and extra cable to quickly expand your circumference, allowing you to try on your garment! 
To be used with ChiaoGoo Red Interchangeable Cables, or SWIV360 Cables.
Contains 2 per pack.
Important interchangeable tip & cable connections:
1.5mm - 2.5mm tips connect with the MINI size cables 
2.75mm - 5mm tips connect with the SMALL size cables 
5.5mm - 10mm tips connect with the LARGE size cables
---
More from this collection