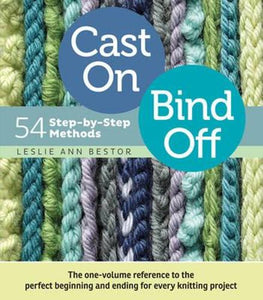 Cast On, Bind Off
This one-of-a-kind reference presents more than 50 ways to cast on and bind off, creating edges that are tighter, looser, stretchier, lacier, longer-lasting, prettier - whatever your project needs, you'll find it here.
Detailed instructions for each technique are combined with step-by-step photography so that nothing is left to chance. 
At-a-glance charts identify the best cast on or bind off for various types of knitting, as well as cast on/bind off pairs that work well together.
This indispensable guide will ensure that all of your knitting projects are polished and pleasing, from start to finish!
---
More from this collection