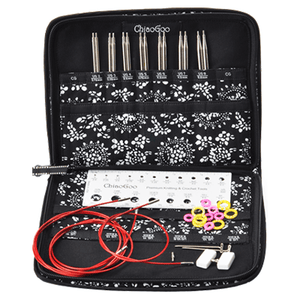 ChiaoGoo Twist 13cm Small Interchangeable Set
We are very excited to be stocking ChiaoGoo interchangeables alongside our beloved Hiya Hiya sets! ChiaoGoo's Red Lace Tips are the bees knees when it comes to interchangeables. The join between the cable and tip is super smooth without any catches, the red cables don't kink, stitches seem to grip and slide at the same time and the lace tips are beautifully sharp for fabulously accurate knitting. 
These precisely-machined, lace tips are made of surgical-grade stainless steel. The size is laser imprinted on each tip. And TWIST red cables are memory free as they consist of a multi-strand, steel cable coated with red nylon.
Contents:
7 pairs of 5" (13cm) TWIST steel tips in the following sizes: 2.75, 3.25, 3.50, 3.75, 4.00, 4.50 and 5.00mm
3 sets of TWIST red cables in the following sizes: 35cm, 55cm and 75cm

Easy-to-read, coded cable connectors

End stoppers

T-shaped tightening keys

Stitch markers

Needle gauge

Compact, zipper-enclosed, fabric case.
Important interchangeable tip & cable connections:
1.5mm - 2.5mm tips connect with the MINI size cables 
2.75mm - 5mm tips connect with the SMALL size cables 
5.5mm - 10mm tips connect with the LARGE size cables
---
More from this collection