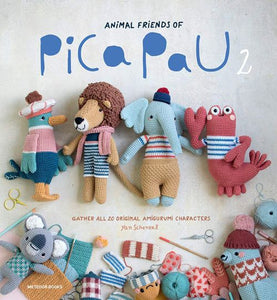 Animal Friends of Pica Pau 2
Get together with the creative zebra, the thoughtful lion, the witty anteater, the flamboyant elephant and many more: there's room for everyone at Yan Schenkel's craft table! Toy maker, character designer, and crochet knitter Yan Schenkel has collected the most original amigurumi around her. She shows her passion for amigurumi crochet in 20 designs, and also shares special tips and tricks for every single project.
All patterns contain detailed instructions, accompanied by step-by-step pictures and explanations of all techniques used, so both beginners and advanced crocheters can easily get acquainted with her animal band.
---
More from this collection