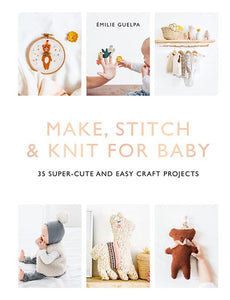 Make, Stitch & Knit for Baby
This book is packed with easy, affordable projects to help you make unique baby gifts with a French-chic twist.
From simple cotton bibs, shorts and soft toys, to a basic cushion and straightforward knitted blanket, the projects are clearly explained and easy-to-follow. Other projects include a hanging mobile, finger puppets, soft rattles and sensory toys. Whether you're expecting a baby and want to add a personal touch to their bedroom, or you'd like to make something special for your grandchild or friends' babies, you will find a project to make stylish baby items.
Each project is set out with easy-to-follow, step-by-step instructions and range from curious beginner, to providing inspiration for the more experienced crafter.
---
More from this collection